SUCCESS SOCIETY


ALSO KNOWN AS: THE WEALTHY WOMAN CLUB
ONE OF THE WORLD'S LEADING
​​​​TRANSFORMATIONAL MEMBERSHIPS FOR
THE FINANCIAL EMPOWERMENT OF WOMEN
This is a place for EVERY WOMAN. It is the place where you will learn HOW TO BE A WEALTHY WOMAN. It is a community of accountability so that you can fully learn the art of becoming a WEALTHY WOMAN.
To be a Wealthy Woman ~ You must act
as a Wealthy Woman.

The idea here is that we must do at least one Wealthy Woman activity every day so that we can ingrain the essence of WEALTH.

Includes: Dining & Travel Rewards, Money Mindset Coaching, Masterclasses and more!
Receive a $500 Hotel Savings Card when you join! You can also receive a FREE 8 day/7 night resort stay in beautiful Bali or any other destination you choose! Only $39 monthly or $390 yearly.

I will donate 10% to kiva.org to help other
women business owners around the world.

PLAY THE VIDEO BELOW TO BE INSPIRED:
(&/OR SCROLL DOWN THE PAGE TO READ ALL OF THE ACTUAL DETAILS AND BENEFITS)
I actually get giddy over the Success Society (The Wealthy Woman Club) because it has been a dream of mine for so long and now it is serving so many women at a deep level that helps them to transform their lives...all parts of their lives.

You see, when you hold yourself as a Wealthy Woman in one aspect of your life...it has a snowball effect in which you begin to hold yourself as a Wealthy Woman in other areas of your life. This up-leveled thinking will truly shift the course of your entire life. It is the
starting point of all great things. For one must first think well of oneself before the outer manifestations can follow. One must first be a Wealthy Woman Every Day in order to experience a Wealthy Life.

You will see below that we focus on one category every day (or you can create your own) and add in lots of accountability. These small but impactful acts of self-love start to build up your Wealthy Woman muscles until you are so skilled that you just naturally flow through your life in this elevated state of joyful abundance, gratitude and bliss.

The reason that this group is so important is that it keeps us accountable. Nothing changes ..unless something changes. We need a support team to help us to rise up. We share our wealthy wins with each other and we root for each other. You are never alone...if friends &/or family do not understand the mission that you are on...it is okay....you have a support system here in The Success Society. This is a sisterhood and we are all about empowering each other....each and every day, without fail...this is a HOME for your soul.
JOIN THE SUCCESS SOCIETY MEMBERSHIP & YOU WILL RECEIVE A
$500 HOTEL SAVINGS CARD WHEN YOU JOIN!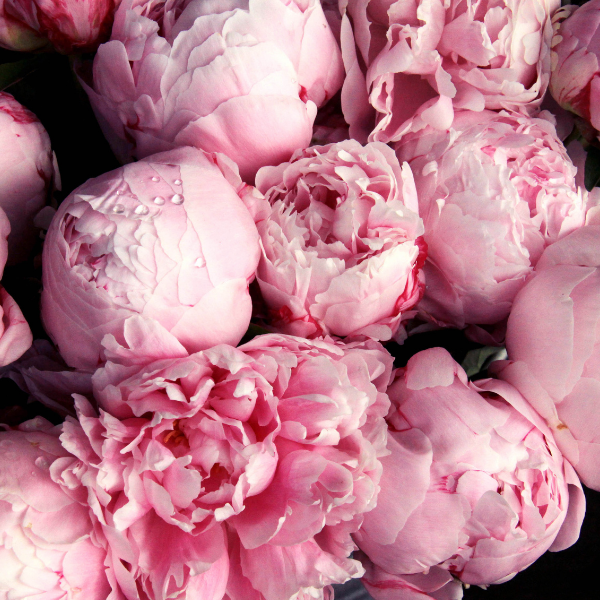 The Success Society includes:
Daily accountability Plus a new quarterly masterclass & access to all of the previous masterclasses Plus an empowering community of supportive & inspiring women inside our private group Plus one sixty minute coaching session Plus delicious dining and exciting travel rewards.​​
THE SUCCESS SCHOOL MASTERCLASSES
BONUS: In addition to the daily focus of the day, there will also be a very profound,
in-depth and transformational Monthly Masterclass. You will have access to all of the
Masterclass Manuals, Worksheets and Video Recordings for as long as you are a member.

Topics range from money mindset, to setting boundaries, to getting clear on purpose, goal setting, learning how to properly set yourself up for success and so much more. The value of this is beyond measure. The high-level training on these topics will be a life-changer for you.

*Every month I will bring you a Masterclass that will completely transform you from ordinary human to illuminated Wealthy Woman. Do not miss out on this.....you deserve....everything!
TO BE A WEALTHY WOMAN ~ YOU MUST DO WEALTHY THINGS

The main idea here is to do ONE thing every day. You can either follow the suggestions below or create your own. The only thing that really matters is that
you do one thing every day that makes you feel like a Wealthy Woman.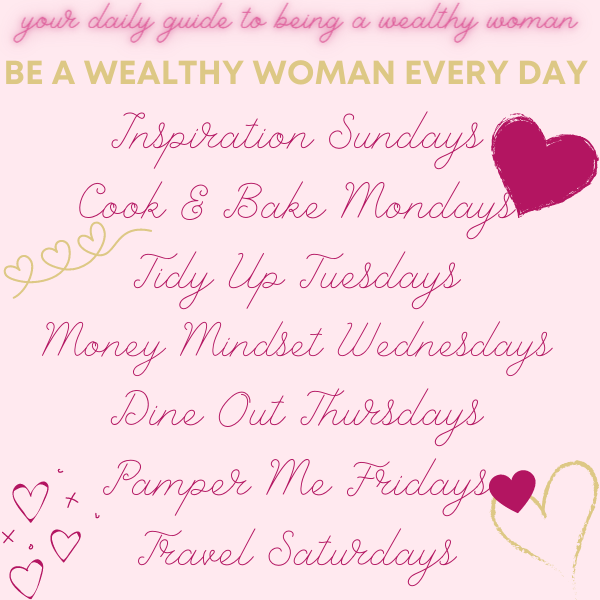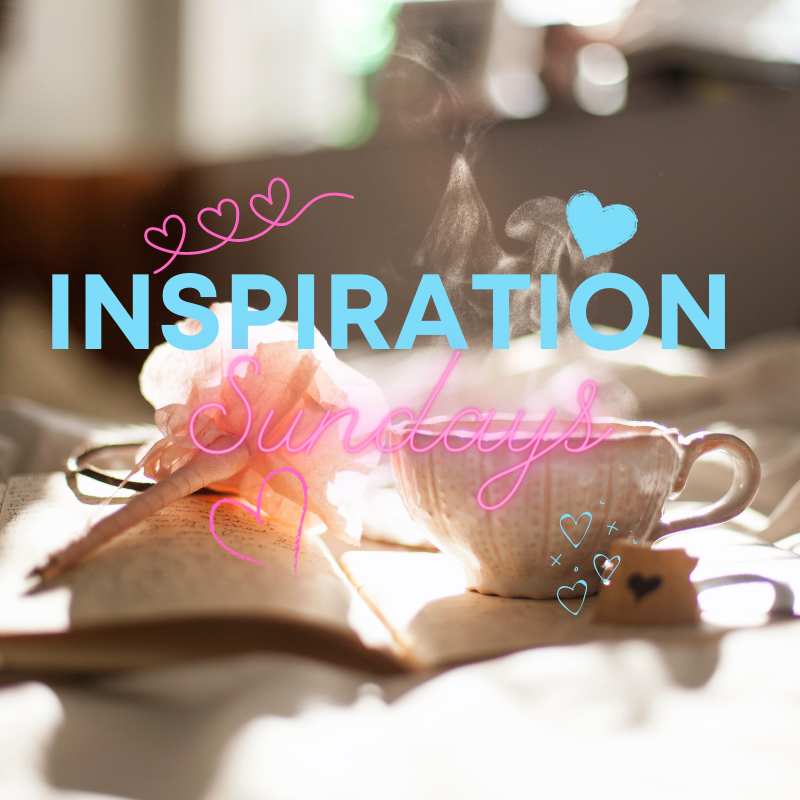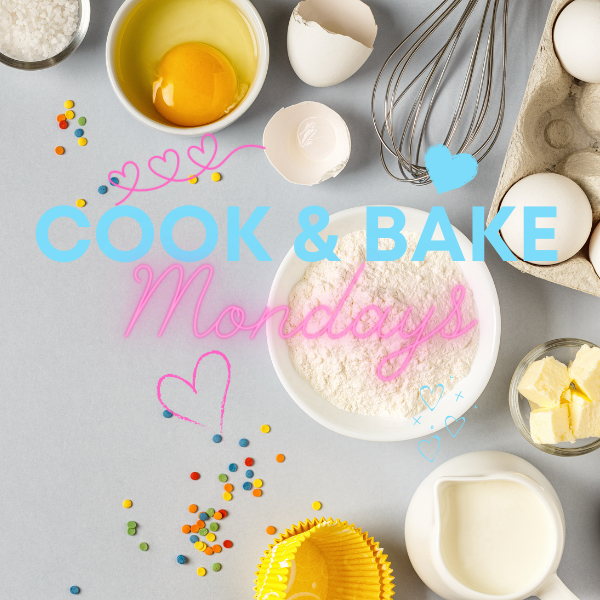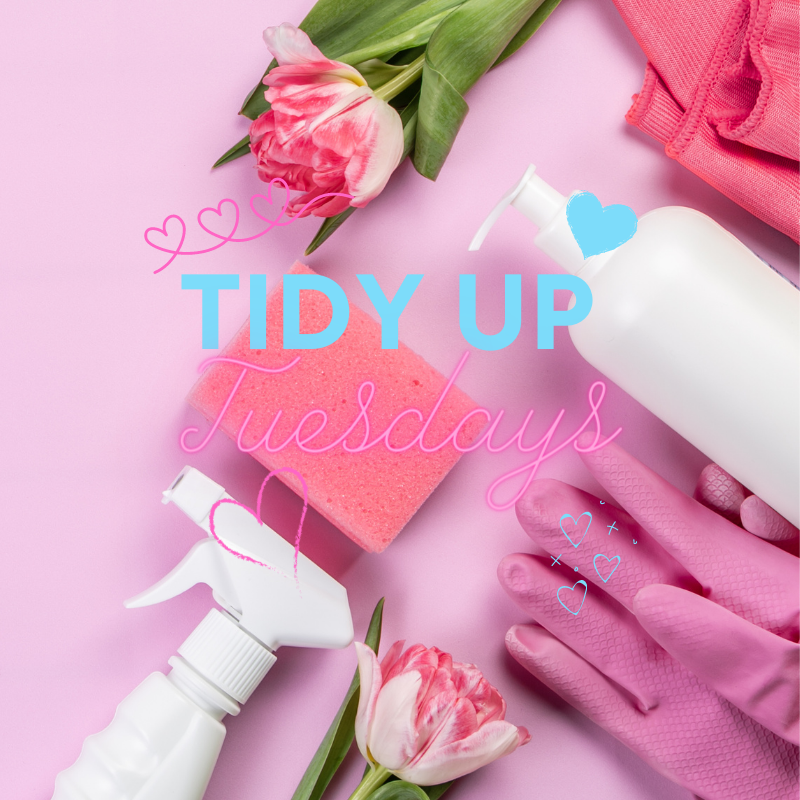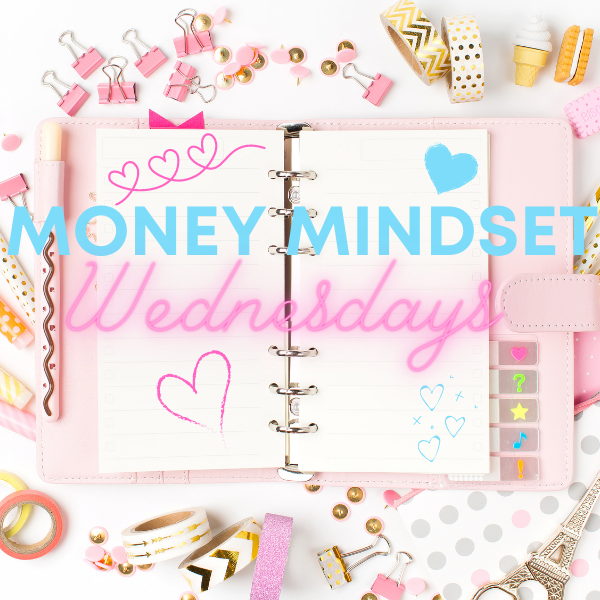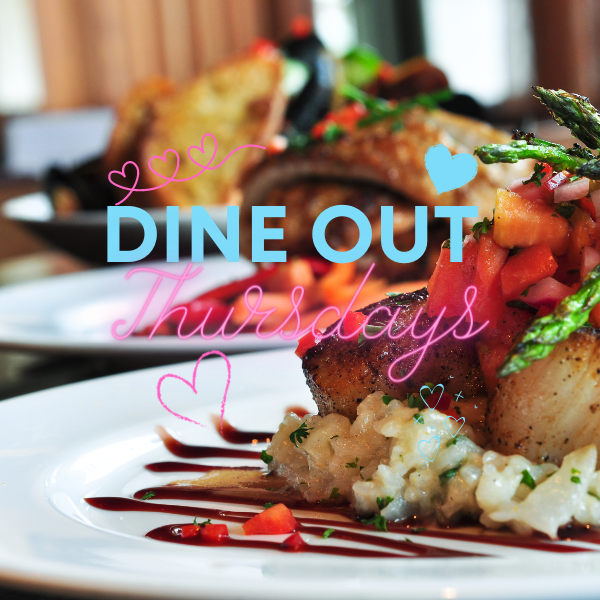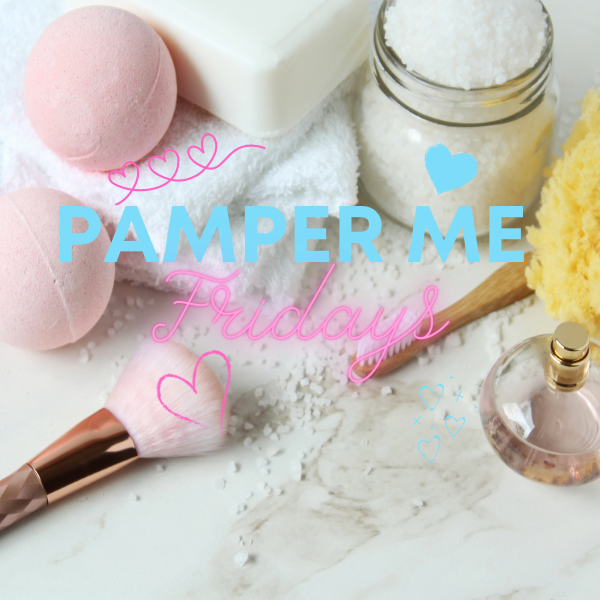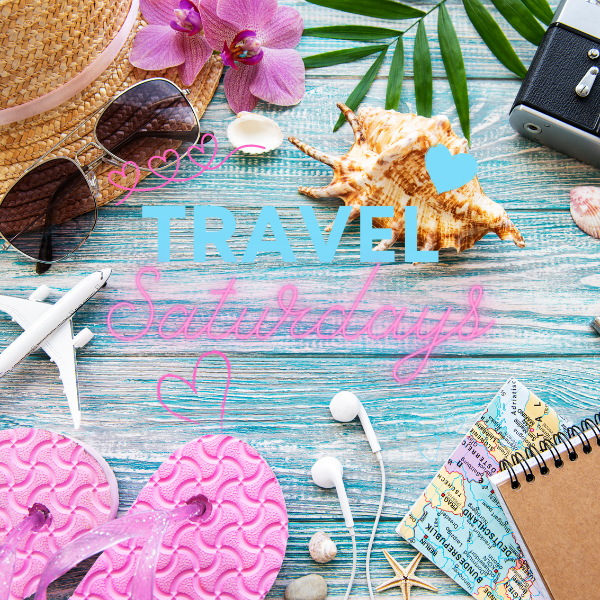 YOUR JOURNEY TO JOYFUL ABUNDANCE BEGINS WITH THE WEALTHY WOMAN CLUB
The path to training yourself to be a Wealthy Woman Every Day starts in small daily actions. As you can see, the goal is to focus on one category every day. This is a private group in which we will all share, inspire and applaud each other on how we practiced being a Wealthy Woman. We will all be using the daily framework shown above as a guide to becoming a Wealthy Woman or you can create a framework that works for you. Use the suggestions here or create your own. The only goal is that you do one Wealthy Woman activity every day.




The daily framework that we use in the Success Society is meant to be in addition to your most important daily baseline focus on health, wealth and relationships. You may also substitute our daily framework for your own and add in other activities that you feel are worthy. Just as important: pay attention to the activities that do not make you feel like a Wealthy Woman and either remove them or delegate them. This is your amazing life and
you deserve to put attention and intention on all the things that make you feel like a
Wealthy Woman Every Day.



There is freedom in how you choose to be your own style of Wealthy Woman!



Here's an idea of what a week in the life of being a Wealthy Woman might look like. Your week might look similar or completely different. Whatever works for YOU:
On Inspiration Sunday, you meditated about what you want to achieve in the next 90 days and wrote it down in your journal. On Cook & Bake Monday, you decided to finally try out a new recipe for a roast chicken dinner. On Tidy Up Tuesday, you finally cleaned out your bathroom cabinets and organized all of your beauty products. On Money Mindset Wednesday, while listening to your money affirmations, you write down all of the money that has come in over the last week. On Dine Out Thursday, you met your best friend for drinks and appetizers at the new downtown restaurant. On Pamper Me Friday, you got a relaxing massage to welcome in the start of a relaxing weekend. On Travel Saturday, you packed a picnic and you and yours took a drive through wine country and enjoyed some wine and cheese in a vineyard.

Next week it will all be something new and just as fabulous. It is all very intentional and this now becomes a daily priority to focus on ONE thing per day that is all about honoring your inner Wealthy Woman. Plus to make it extra fun, I will be running accountability games that come with rewards and prizes. Follow this plan of doing one thing every day and you will be well on your way to enjoying the beauty of being a WEALTHY WOMAN EVERY DAY.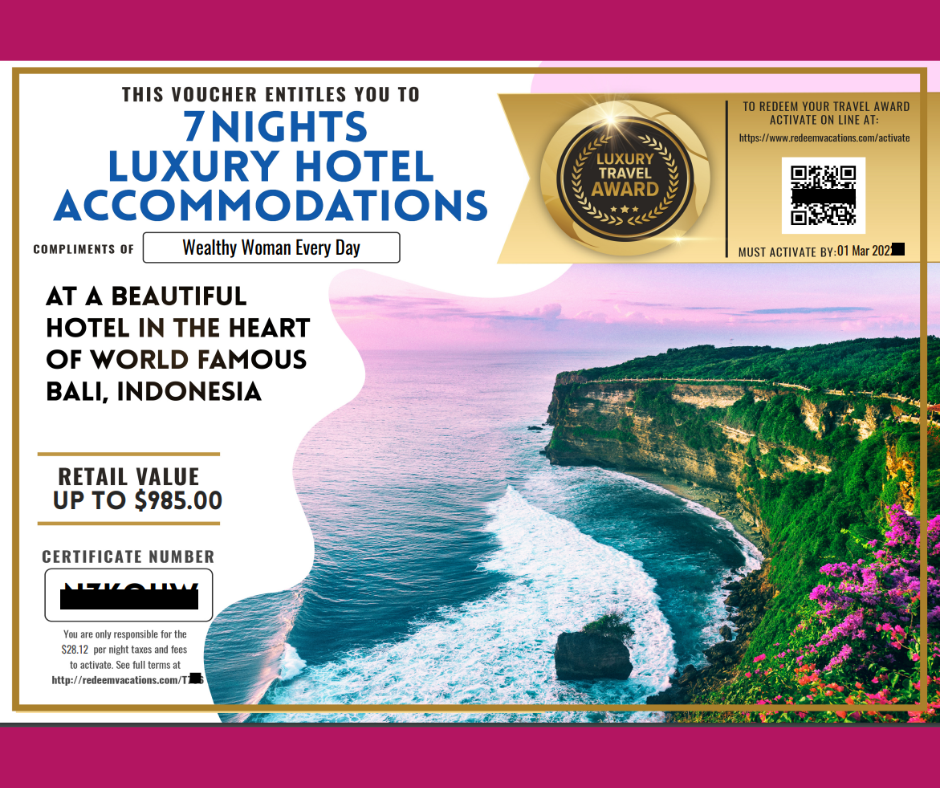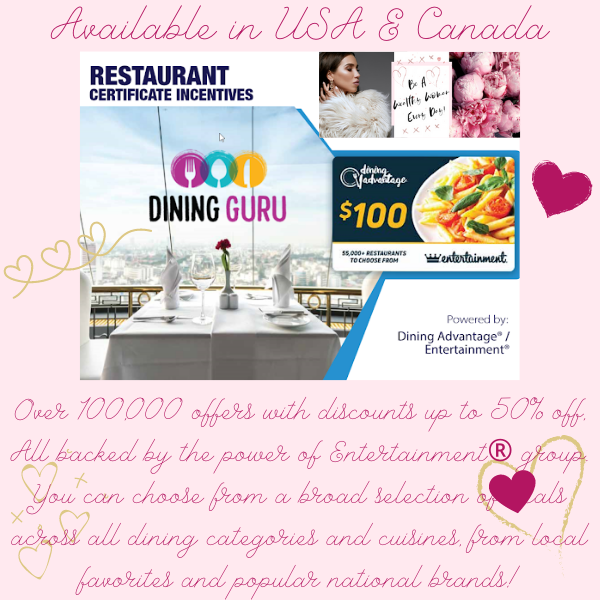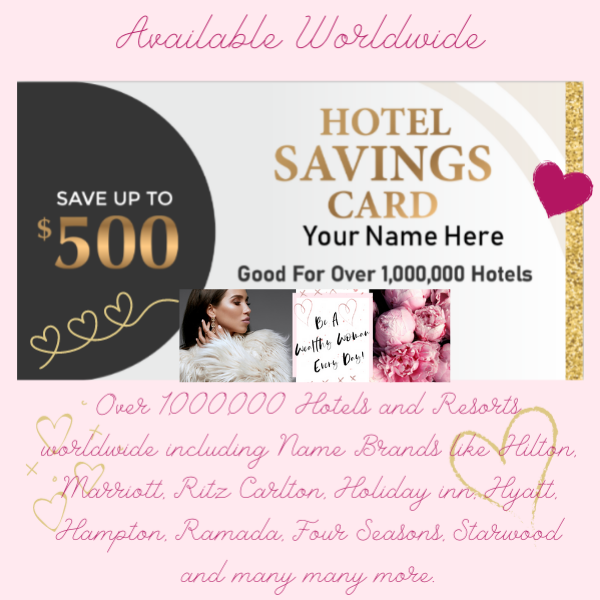 Need another amazing reason to join:
WEALTHY WOMAN DINING & TRAVEL REWARDS!

Every month you will submit a progress report that tracks all of your Wealthy Woman activities. The more activities you do ~ the more rewards you accumulate.

Using the honor policy, you fill out the actual Wealthy Woman activities that you have completed for the current month. You will receive Dining &/or Travel Rewards based on the total amount of activities that you have done over the course of the current month.

This is IN ADDITION to the $500 Hotel Savings Card you'll receive when you become a member!


Click here to see the progress report.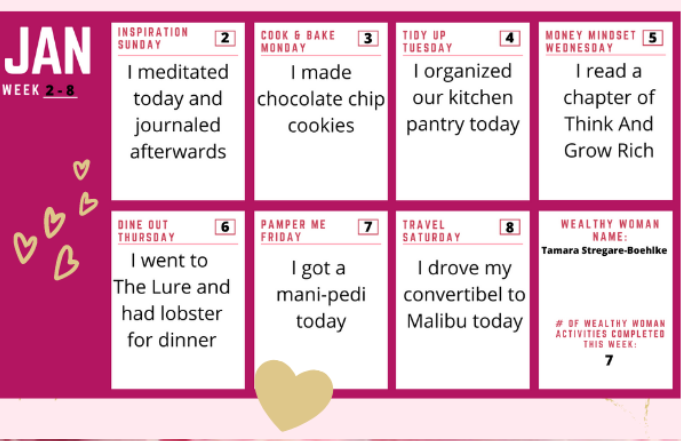 For every Wealthy Woman activity that you complete over the current month, you will receive either a Dining Certificate or Hotel Savings Card in denominations of $100, $300 or $500! This will happen every month that you submit your progress report.

Over the course of a year, you could accumulate as much as $6,000 in Dining &/or Hotel Certificates. The dining certificates are for the USA & Canada and the hotel savings card are for worldwide use.
Why do I do this?
A couple of reasons: it gives you an incentive to treat yourself like the Wealthy Woman that you are, it is a way to form great new habits, it is a whole lot of fun, it helps you build your connection to other women in our group and I am just completely thrilled with anything that has to do with luxurious food & travel and I get a feeling that you are thrilled with this too!!!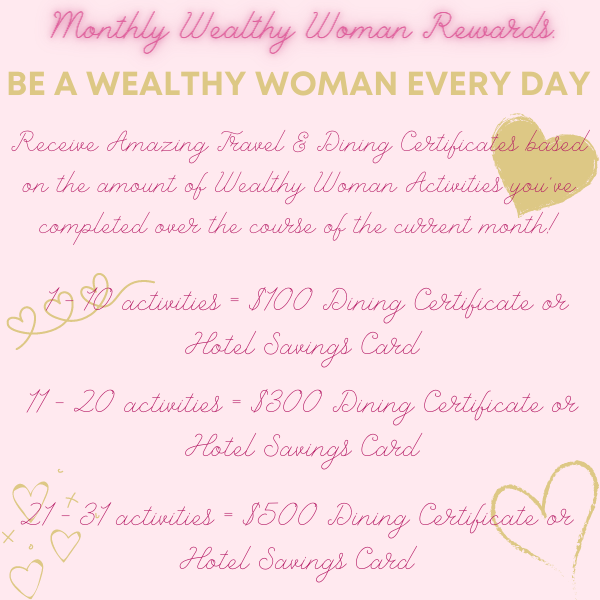 The investment is only $39 monthly or $390 annually
***If you choose the annual membership you will save money &
you will receive a FREE resort stay in Bali for 8 days & 7 nights!***
(alternative worldwide destinations & length of stay are also available ~ local taxes/possible resort fees or any upgrades are not included)




I will also donate 10% every month to the charity called:
KIVA

as I have always held this charity dear to my heart because it gives women from all over the world a chance to be their own boss and empower themselves and their family. It means so much to me to invest in women that need a little extra help to go for their dreams. So if you like the good feel vibration of this empowering energy...please join us Wealthy Woman. This is your place to belong. This is self love in action.
JOIN THE SUCCESS SOCIETY & GET A $500 HOTEL SAVINGS CARD!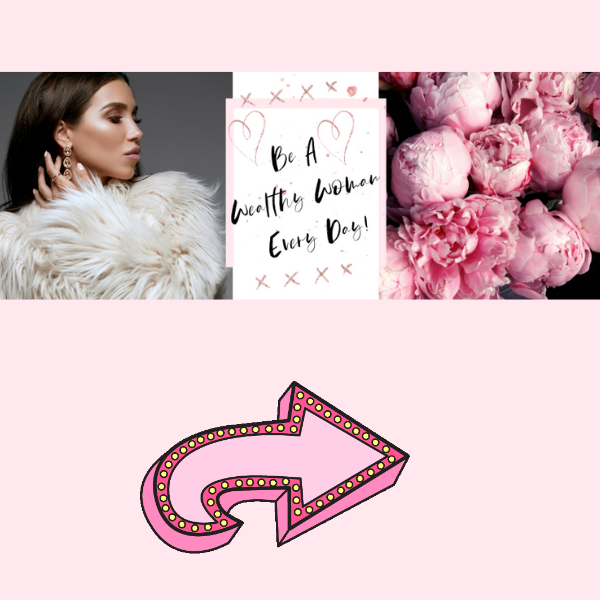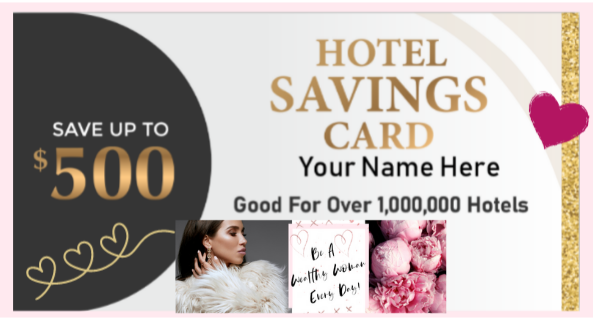 Live Your Life Empowered!
Join 'Success Society'
********
JOIN THE SUCCESS SOCIETY MEMBERSHIP & GET A $500 HOTEL SAVINGS CARD WHEN YOU JOIN!
Daily accountability Plus a new monthly masterclass & access to all of the previous masterclasses Plus an empowering community of supportive & inspiring women inside our private group Plus one sixty minute coaching session Plus delicious dining and exciting travel rewards.​​


I am a Certified Sacred Money Archetypes Coach, as well as a Certified Money Business Breakthrough Coach and I am highly skilled in creating significant transformations in the financial success of women business owners. My mission is to bring women up into full financial independence and empowerment so that they can design a life of their choosing.


I have also been in the online/digital marketing space since 2009 with a highly developed skills set in promotion and marketing, as well as graphic design. I hold a BA degree in the field of Education, as well as advanced training in professional coaching programs, which provide me with the qualities to properly educate and coach my clients in comprehensive marketing strategies for their business. I have achieved awards in marketing and advertising, as well as also serving as a judge for a National Marketing and Advertising competition. I know that before it became a business for my clients, it was their dream. That's why my personal mission and one of my greatest joys is knowing that I can strategically help business owners get closer to achieving their goals and living the life of their dreams.


---

Tamara Stregare-Boehlke, Leading International Wealth
& Business Coach For Women Business Owners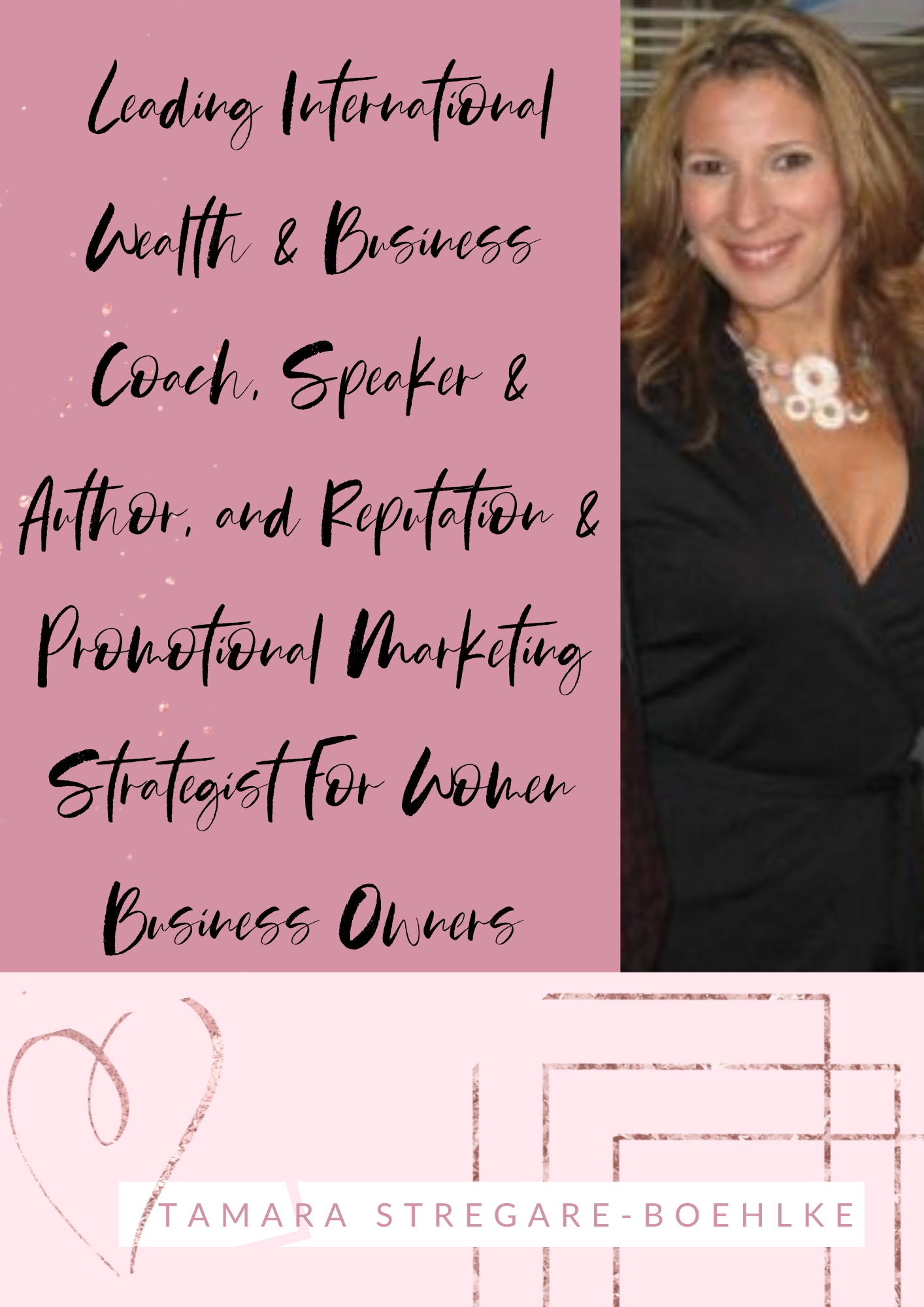 ---



Fully Trained and Certified to help you with Money & Business Coaching:
Listen To What Our Clients Say About Our Money & Business Coaching…
Because It's Our Clients That Matter Most