'MILLION DOLLAR MONEY MAKER'
CATAPULT YOURSELF TO MILLIONAIRESS
Tired of cookie cutter business advice that doesn't honor YOU and your uniqueness?
If you're ready for success in your business:

*Creating lucrative new programs
*Charging what you're worth
*Letting go of perfectionism & overwhelm
*Pressing reset on your money mindset


Then join me inside my
MILLION DOLLAR MONEY
MAKER
Coaching program
THE MILLION DOLLAR MONEY MAKER PROGRAM IS FOR YOU IF:
You know you've been under charging and over-delivering, and you wish you had someone to help you price your services and encourage full pay clients
You love what you do but aren't certain how to organize your expertise into lucrative, client-attracting packages
You keep thinking, "Do I have the right niche?!" but you're not sure so you end up trying to serve everybody, even clients who drain your time and energy
You crave having a brand that captures your unique spirit, personality and passion, positioning you to powerfully stand out from the cookie-cutter crowd
You feel in your heart that your mindset about money could definitely benefit from a professional makeover
You feel nervous every time you talk with a prospective client, knowing you're not quite sure of what to say when it comes to the money part
If this is YOU then it's time to transform what feels overwhelming in your business into everyday easy, in a way that feels powerfully authentic for you.

That's why I am thrilled to invite you into MILLION DOLLAR MONEY MAKER.
Heres' the key...
You started your business because your dream is to impact the lives of others, work from your zone of genius and feel excited that you're making money in a lucrative business that lights you up.

​​​


What you're seeking now is for all the puzzle pieces to easily fall into place so you can reach your goals and achieve your dream without waiting any longer.
​​​​
ALL WOMEN BUSINESS OWNERS ARE WELCOME HERE
Whether you are a health & wellness coach, life or business coach, spa owner, salon owner, fitness studio owner, clothing designer, interior decorator, restaurant or cafe owner, flower shop owner, financial advisor, antique store owner, pastry chef, wedding planner, photographer, musician, health practitioner, lawyer, accountant, realtor, travel agent or in any other line of business...Million Dollar Money Maker is for you.
Here's just a peek at what your business can look like when we are coaching together:
You have lucrative, client-attracting packages that spotlight your value and your unique way of working with clients
You're charging what you're worth and love how good it feels to be free and no longer over-delivering
Your new pricing structures are adding income to your bank account with every new client
You have crystal clear clarity about your niche, and feel excited every day to only be working with clients you love, and who appreciate YOU and your expertise
Your Brand Archetypes make it fun and exciting to capture your unique spirit, personality and passion in all of your marketing
You feel aligned and confident about your brand and how easy it is to powerfully and authentically stand out from the crowd
Your new mindset about money perfectly aligns with your goals and is powerfully supporting you to reach them
You feel confident, calm and relaxed talking with prospective clients, knowing exactly what to say when it comes to the money part
You enjoy working in your business, now that all the puzzle pieces are lined up for your success
Ready to feel excited that you're making money in a lucrative business that lights you up? Here's what's inside this transformational coaching program:
Module 1: Money Mindset Mastery


Are you ready to remove money blocks, create a new, empowering money story and own your worth? Coaching together, we'll create a fresh, empowering success mindset for you — shifting your beliefs and actions in the process — so you quickly begin creating new and exciting results in your business.

Take a look at what we will coach on:
*Release limiting money beliefs and transform the negative self-talk that has held you back from achieving your full potential in your business

*Create an unshakeable 'Premium State of Mind' so you begin confidently charging what you're worth

*Create your new, empowering money story so you can begin making changes within yourself and powerfully claim your worth

*Begin discovering the value of your work so you can free yourself from undercharging or over delivering
THE MISSION OF THIS PROGRAM:
To Uplevel Your Income~ To Increase Your Freedom~ To Create More Ease In The Running Of Your Business
Module 2: Branding with Archetypes®
There's a unique part of you that many business owners mistakenly believe they have to hold back. Coaching together, you'll discover your Brand Archetype, which unlocks the powerful, instantly recognizable presence within you that's a powerful client attraction and opportunity magnet.

Take a look at what we'll coach on:

Discover your Brand Archetype, which perfectly captures your spirit, personality and passion, transforming YOU into an authentic brand you can instantly use to launch this exciting new direction in your business


Confidently choose your website design and images, write attention- getting emails, sales copy and marketing material (even if you're not a writer!)


Identify your unique brilliance and use it as a powerful catalyst for focusing your gifts and talents on your most profitable actions
Module 3: Niche Breakthrough Secrets®




Are you ready to discover your authentic, lucrative niche so that you can attract and keep more ideal clients? Revealing your niche is surprisingly easy with the simple steps I'll coach you through.



Take a look at what we'll coach on:


*Quickly get out of "niche overwhelm" so you can start attracting new clients with freedom, clarity and confidence


*Reveal your most lucrative niche (it's often hidden gold and I'll coach you through an exciting process to discover it so you can rapidly begin increasing your income and open up new opportunities to thrive)
*Instantly determine if your niche is "hot or not", saving you time and effort so you can achieve your goals this year


*Create an authentic marketing message (you'll love the template I'll coach you through that teases out the right words for you to use)
Module 4: Transform 'What You Do' Into A Client-Attracting Signature System®
Coaching together, I'll walk you step by step through how to transform your expertise – including the magic that makes YOU unique -- into an exciting Signature System that attracts a steady stream of ideal clients.

Take a look at what we'll coach on:

*Quickly transform that "thing you do" into an exciting Signature System that is easy to market and enroll new clients into

*Eliminate "what do I offer" overwhelm, clarifying your most profitable path to a thriving business and high-end offers

*Position yourself as a valued expert in the eyes of your ideal clients with a Signature System® that you become known for, attracting new clients quickly, easily and with less marketing
Module 5: How To Create Packages That Sell Themselves
Every business has the opportunity to offer packages and the benefits are huge – you serve clients who truly desire what you have to offer, while you work fewer hours for significantly more income. This could be what catapults your reputation, too.

Take a look at what we'll coach on:

*Shift out of the trading time for dollars model and into the mindset of owning your worth and value

*Step by step, create packages based on value that uniquely set you apart and structure your services to massively free your time and increase your income

*How to stop overloading your packages, freeing you from draining over-delivering

*Trim the number of days you're working each month so you enjoy more free time and increase your happiness
Module 6: How to charge what you are worth and get it!®


If you struggle with how much to charge and how to confidently talk about your fees, you are not alone. I'll coach you to clear out feelings of unworthiness, plus give you practical tools so you can charge what you're worth and discuss your fees like a pro.


Take a look at what we'll coach on:


*Immediately transform doubt about what to charge into heartfelt, unstoppable confidence in the value you deliver


*Solve the uncomfortable problem of what to say when clients ask, "How much do you charge?



*Discover exactly what to charge for each of your services, programs or packages, including strategies for increasing your cash flow with more pay-in-full clients
*Create unshakable confidence & belief in why you are worth charging higher fees
Take a look at what we will coach on:

*Overcome any fear of what to say when discussing your new offer to ideal clients

*Discover exactly where to quickly find new, potential clients you feel comfortable connecting with

*Must-have secrets to talking about your offer in clear, benefit-rich language so you get more 'Yes's' from your ideal clients

*Create a simple action plan that eliminates procrastination and keeps you moving forward signing on new clients month after month
Module 7: How to Sign On New Clients
Ready to feel confident about how you can start getting new clients signing on with you? Creating a steady stream of ideal clients is surprisingly easy, and I'll show you how!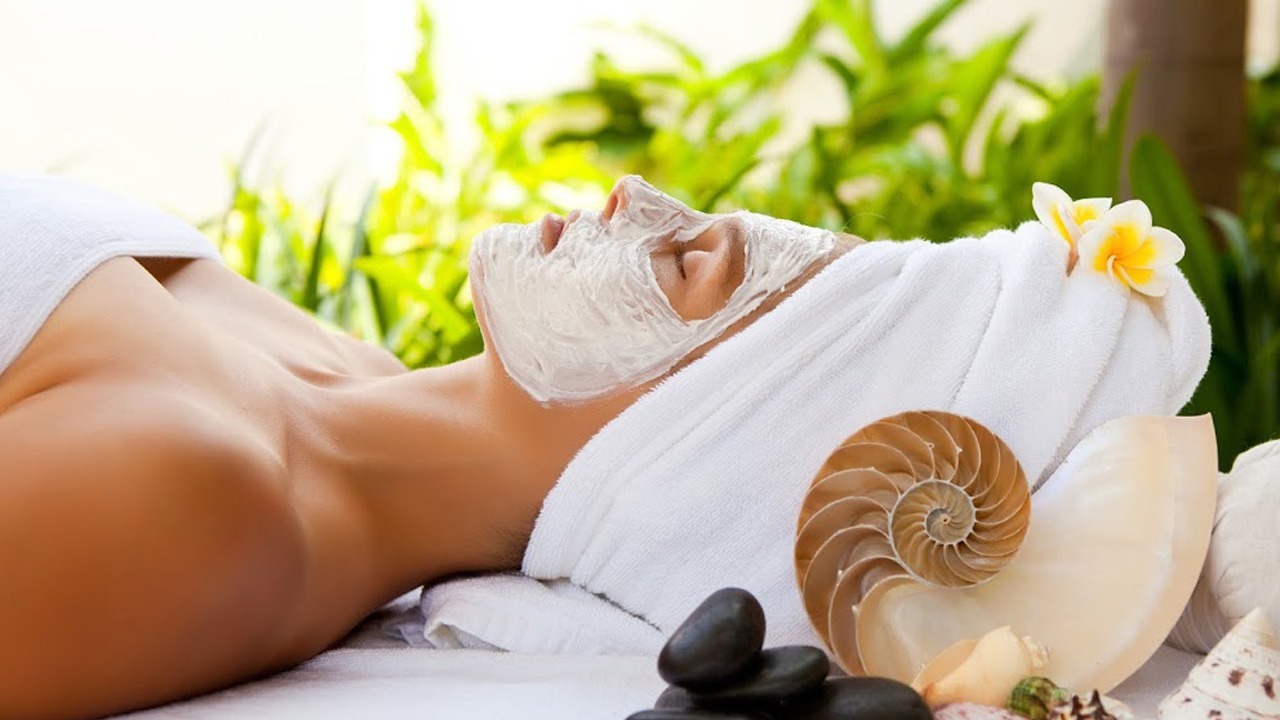 Bonus Coaching: Money, Marketing and Soul® Coaching
Throughout our coaching together, you will experience incredible transformation in your mindset and beliefs, supporting you in attracting ideal clients and making more money in your business.

For example, I'll coach you to:


*Get "unhooked" from emotional triggers so that you can make decisions with grace and ease​​​​​​​

*See challenging situations from a fresh perspective so you can make new, authentically powerful
​​​​​​​and aligned choices

*Create heartfelt, unstoppable motivation and commitment to reaching your goals and dreams

*Let go of perfectionism and overwhelm so you can 'switch' off and enjoy life outside of your business
Fully Trained and Certified to help you with Money & Business Coaching:

Listen To What Our Clients Say About Our Money & Business Coaching…
Because It's Our Clients That Matter Most
REVIEWS FROM SOME OF OUR FAVORITE CLIENTS: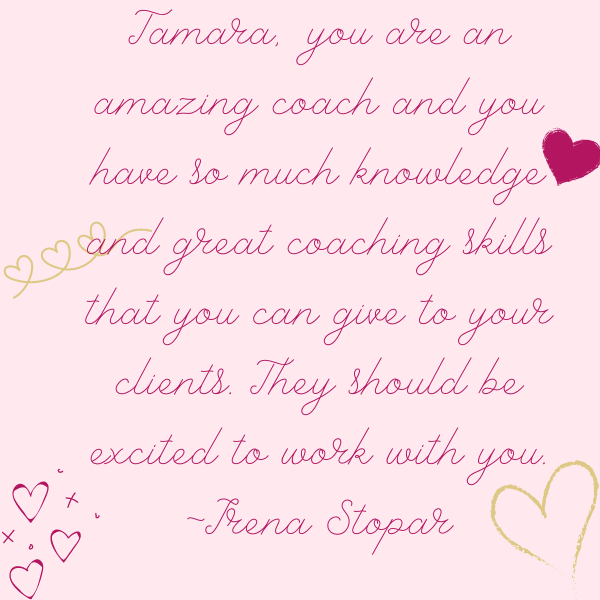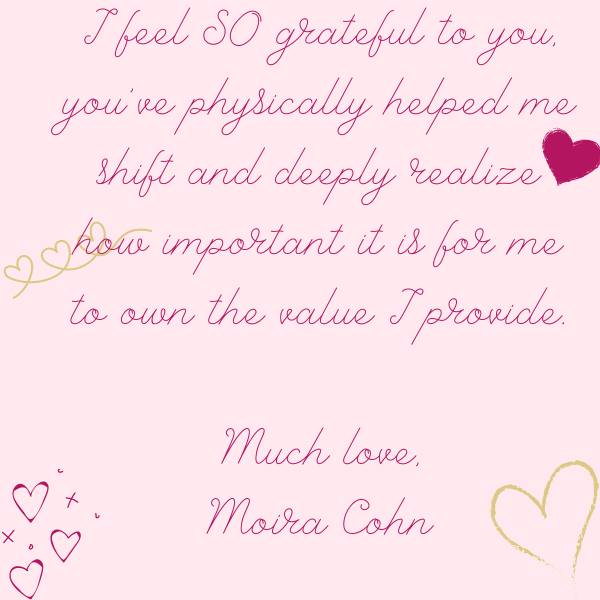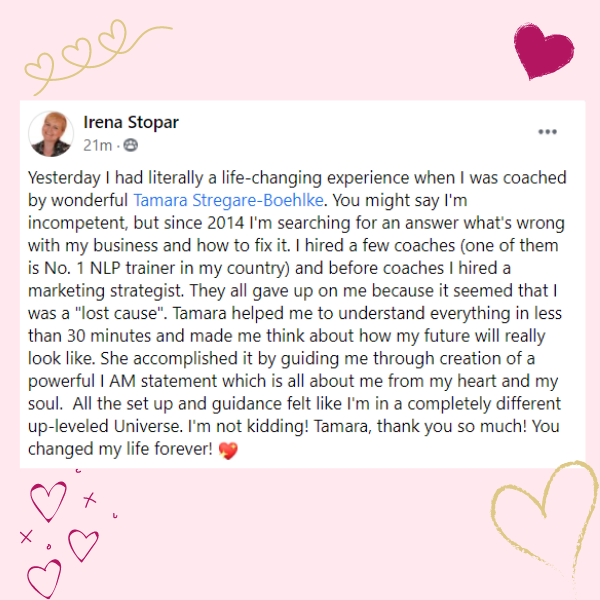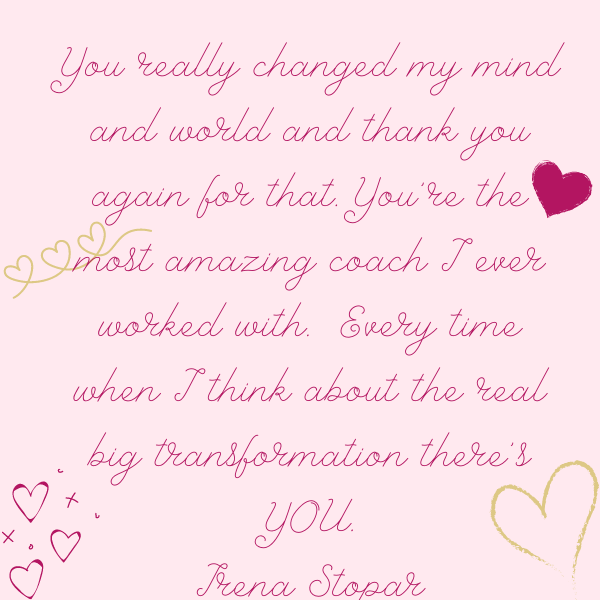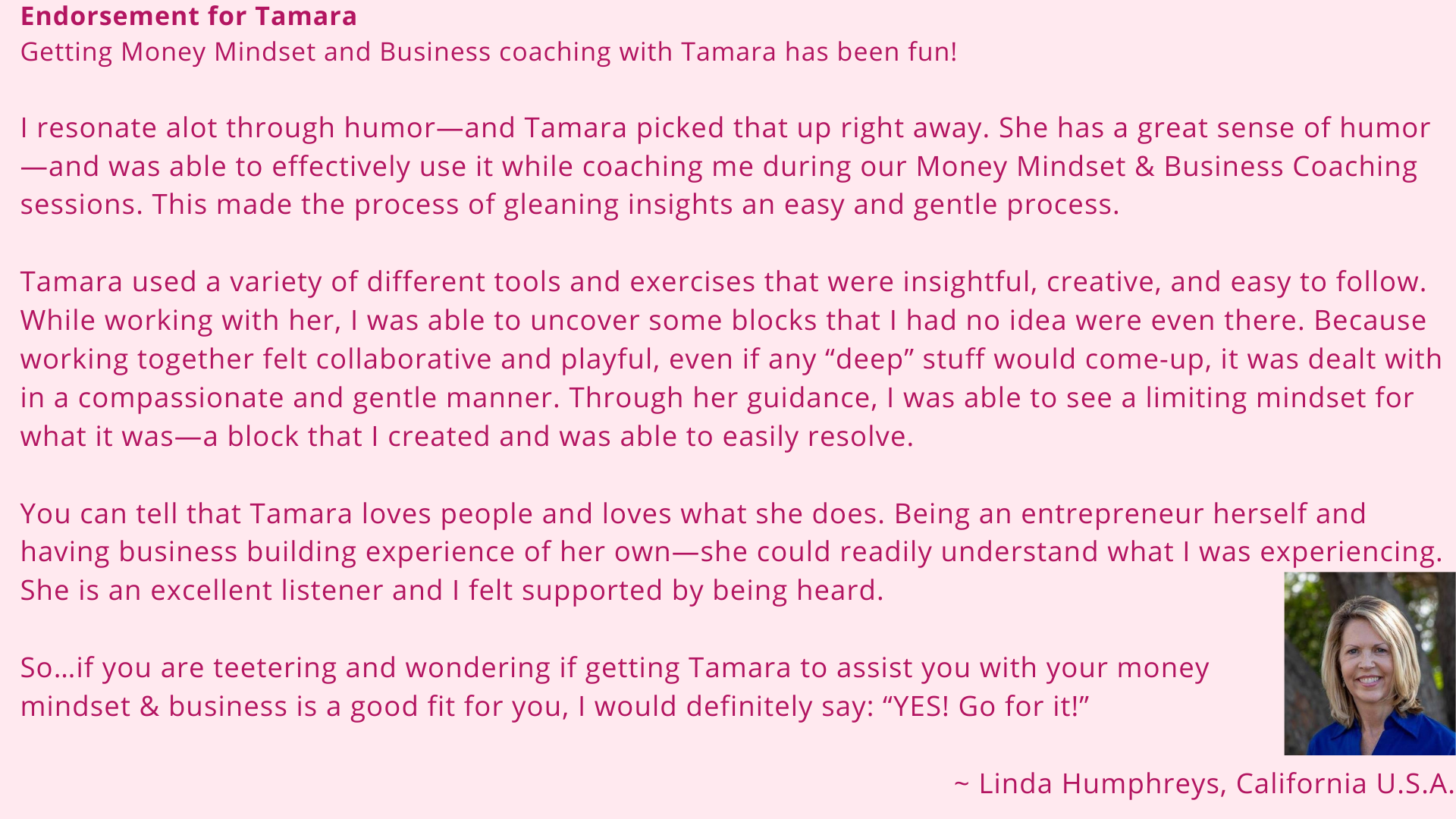 The Million Dollar Money Maker
12 Month Private Coaching Program Includes:
*12 Laser Focused Private Coaching Sessions:
You will receive one on one private coaching with me that will be focused on each of the 7 modules of the Million Dollar Money Maker program PLUS bonus coaching from my Million Dollar Mind program PLUS Q&A and guided implementation sessions
​​​​​​(a total of 12 sessions/60 minutes/one per month/recorded so you have lifetime access)


*Beautiful Workbooks:
Filled with exercises, templates, checklists and scripts that I will coach you through so you see results with every coaching session
*You will also have lifetime access to all recordings & resources
​​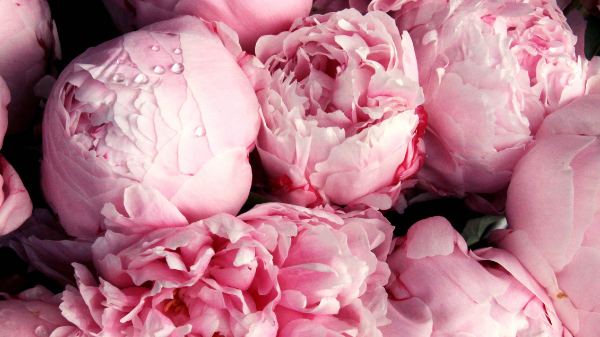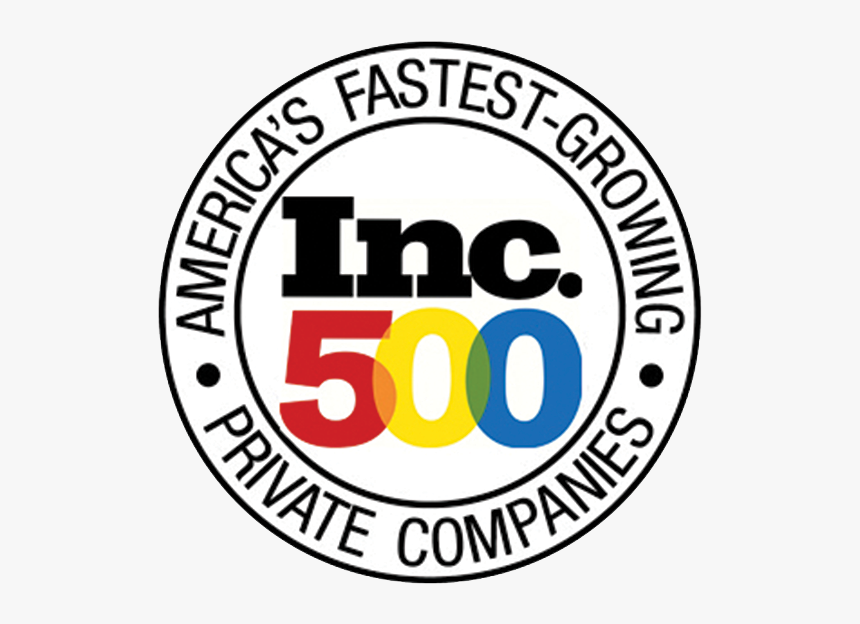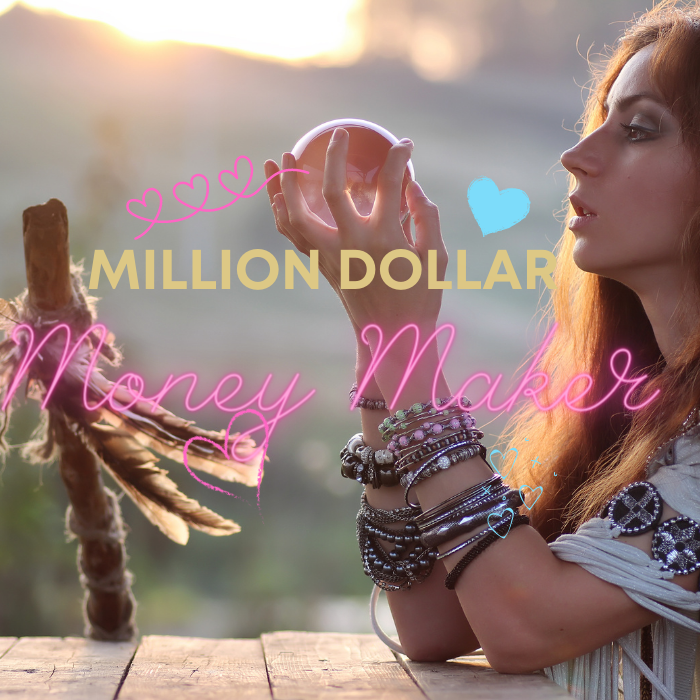 Plus, these additional BONUSES make this coaching program even more perfect for you:


Bonus #1

I will be offering you a private VIP Day that will focus on creating a MILLION DOLLAR MIND. It will include special workbooks and you will also have lifetime access to our VIP coaching session. This program will help you with Advanced Money Mindset Breakthroughs so that you can own your worth & command top $$$
(Total Value $1,297)
Bonus #2

The value of this bonus is HUGE!
You will get a free customized Reputation Report Card, Masterclass & a thirty minute coaching session on Reputation Strategy
(Value 2,498)


You will also get six full months focusing on the Reputation Core within 'The Five Star Reputation Club'. This will add more stars to your online reputation and improve your Google ranking that will result in more revenue for you!
(Value 4,800)
Click to learn more about this bonus.

(Combined Total Value $7,298)
Super Bonus:
Pay in full and get a complimentary ticket to my three-day Destination Coaching Intensive which will include your stay at a nearby beautiful resort.

My destination intensives are held in beautiful locations around the world! When you join you will be notified of upcoming locations and dates so that you can choose the one that works best for your schedule. You will also have the option to attend a virtual intensive if you prefer that over a destination intensive. There are no expiration dates.
So, are you ready?
If you are:

*Ready to create client-attracting packages that spotlight your value & practically sell themselves

*Ready to let go of fear and charge what you're worth

*Ready to release money blocks and stand powerfully for your value


*Ready to work with ideal clients YOU love & who love to pay for the work you do with them

*Ready to confidently and calmly talk with prospective clients, even about the money part

*Ready to let go of doubt and claim your worth as a heartfelt and unstoppable woman

*Ready to get the support & do what it takes to make your business dreams a reality





Then I invite you to join me in this transformational private group coaching program

I am a Certified Sacred Money Archetypes Coach, as well as a Certified Money Business Breakthrough Coach and I am highly skilled in creating significant transformations in the financial success of women business owners. My mission is to bring women up into full financial independence and empowerment so that they can design a life of their choosing.


I have also been in the online/digital marketing space since 2009 with a highly developed skills set in promotion and marketing, as well as graphic design. I hold a BA degree in the field of Education, as well as advanced training in professional coaching programs, which provide me with the qualities to properly educate and coach my clients in comprehensive marketing strategies for their business. I have achieved awards in marketing and advertising, as well as also serving as a judge for a National Marketing and Advertising competition. I know that before it became a business for my clients, it was their dream. That's why my personal mission and one of my greatest joys is knowing that I can strategically help business owners get closer to achieving their goals and living the life of their dreams.


---

Tamara Stregare-Boehlke, Leading International Wealth
& Business Coach For Women Business Owners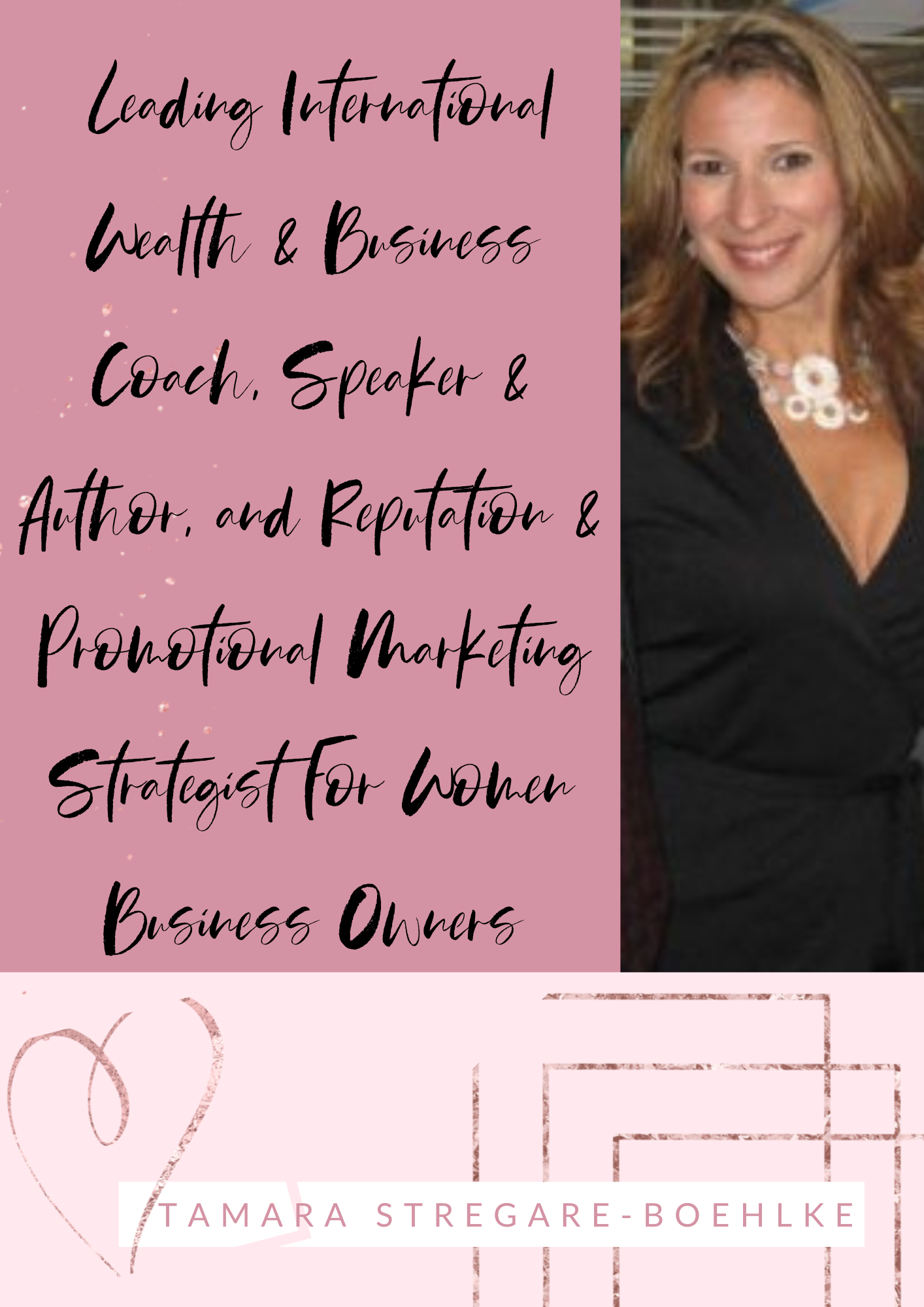 ---

"Yes, I'm ready for
MILLION DOLLAR MONEY MAKER!"
​​​​​​

I'm ready for success in my business!
I'm ready to start creating lucrative new programs, charging what I'm worth, letting go of perfectionism & overwhelm, pressing reset on my money mindset and more!
Click Here To Join
​​'MILLION DOLLAR MONEY MAKER'

YOU CAN ALSO BOOK A CALL BELOW TO FIND OUT MORE: